Product Description
All DoubleGroove™ Dogs are sold in pairs (purchase "1" quantity and you will receive two dogs).
To secure your DoubleGroove™ Dogs, consider adding our SpeedKnobs™ (sold separately). We think you'll find these knobs to be far and away the fastest and easiest-to-thread option; they're the best we've ever tested.
DoubleGroove™ Stubby Dogs
Low profile bench dogs designed to clear your track saw
Our DoubleGroove™ Tall Dogs, Dog Rail Clips and M8 SpeedKnobs are a popular means of positioning and securing your guide rail to a 20mm worktop. While our Tall Dogs afford a maximum level of adjustability in the thickness of material you can slide underneath the guide rail and cut, there is one trade off: the Tall Dogs can interfere with the motor housing on the Festool TS55 and TS75 as they are moved along the guide rail. If you have a large enough 20mm table and don't tend to utilize the full length of your table when making cuts, you may never encounter this limitation. But for those using a standard Festool MFT/3 or smaller 20mm work surface, the low profile of Stubby Dogs means you can now cut along the full length of your guide rail.

Stubby Dogs are recommended for cutting materials one inch (25.4mm) thick or less. Utilize these low profile bench dogs in conjunction with Dog Rail Clips and M8 SpeedKnobs to position and secure your guide rail for cutting. For thicker materials, we recommend our Tall Dogs.
Tall Dog or Stubby Dog?
It really comes down to the material you most frequently work with, and the overall size of your 20mm worktop. If you have the luxury of a large 20mm worktop and don't often utilize the full length of the table, our Tall Dogs afford maximum flexibility in the thickness of workpiece you can cut. If you are using a Festool MFT/3 or smaller 20mm worktop, frequently need to utilize its full length for cuts, and typically work with sheetgoods one inch and under, Stubby Dogs let you cut along the full length of guide rail. The difference between the Tall Dog and Stubby Dog is 40mm less in body height, as you can see from the image to the right.
About the DoubleGroove™ Dog Family
We've reinvented the modern 20mm bench dog and, in the process, addressed some common frustrations. Having dealt with our fair share of ill-fitting or "stuck" dogs, we've designed our dogs with twin grooves that run along the collar. While it may not seem like much, these double grooves make it much easier to remove the dog once it has been installed. Sharing the same careful attention to detail that has set our precision tools apart, small but important design elements—like the tiny undercut beneath the collar that guarantees a perfect 90 degree transition, even if the holes in your work surface aren't perfectly devoid of tearout, or slight chamfers along the touchable surfaces—result in a tool that's comfortable, accurate and a pleasure to use.
DoubleGroove™ Stubby Dogs measure 30mm above the collar, and 18mm below the collar. This makes these low profile bench dogs the perfect size for securing your guide rail, when used in combination with Dog Rail Clips. To accommodate clamping, an included M8x1.25 threaded hole at the bottom of each dog accepts our M8 SpeedKnobs™, FESTOOL® M8 knobs from the clamping elements kit, or any other similar off-the-shelf M8x1.25 threaded knob. All DoubleGroove Dogs are made in the USA from 6061-T6 aluminum on high-precision CNC machining centers and clear anodized for maximum durability. Sold in pairs.
The DoubleGroove™ Dog family includes a variety of sizes: Small (ideal for most general use applications), Medium (for use with our PTR-18 Precision Triangle or thicker work surfaces), Large (for use with our MTR-18 Precision System Triangle), Tall (for using in conjunction with Dog Rail Clips to secure your guide rail to your worktop), and Stubby (the product on this page, shorter height dogs designed to be used in conjunction with Dog Rail Clips while being short enough to fit under your track saw motor housing while plunge cutting). Additionally, specialized "Close Fit" versions of our Small, Large, Tall, and Stubby Dogs are available for those who want a tighter fit in 20mm worktops made with precision tools (e.g. CNC router or the Parf Guide System).
Low Profile Design: Short enough to clear the TS55 or TS75 track saw motor housing when plunge cutting materials one inch (25.4mm) and under.
Easier to Use: Twin grooves running along the collar make DoubleGroove Dogs easier to remove than other dogs on the market; no more stuck dogs!
A Perfect Fit: Precision machined to exacting tolerances, with a diameter of 19.9mm to strike the perfect balance between solid, secure mounting and ease of insertion/removal.
Ideal for Custom Worktops: If you've made your own perforated worktop based on the 20x96mm standard and aren't quite sure if your tolerances are perfect, you'll likely find DoubleGroove Dogs to be a better choice. Their twin collar grooves will make it easier to remove dogs that might become "too snug," and a swept undercut along the collar means DoubleGroove Dogs will mount flush even if your holes have tearout.
Clampable: Each dog includes an M8x1.25 threaded hole, perfect for use with our SpeedKnobs to secure the dogs inside your 20mm perforated worktop. (If you already have the knobs from Festool's 488030 Clamping Elements, those will work too, but you'll find our SpeedKnobs to be much faster and easier to thread.)
Material: 6000 series aluminum alloy, T5 tempered and anodized clear
Optional Accessories
See DoubleGroove™ Dogs In Action!
Dimensions
Additional Photos & Applications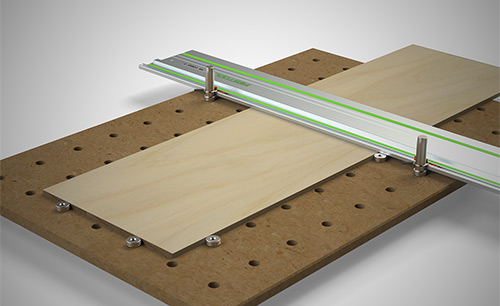 DoubleGroove Dogs™ can be used to secure your workpiece to your perforated worktop at perfect 90 or 45 degree angles. When used in conjunction with Dog Rail Clips, our dogs can also be used to secure your guide rail to your worktop.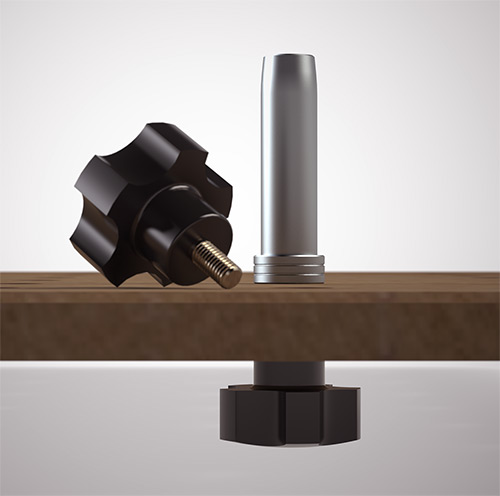 DoubleGroove™ Dogs will be a snug fit in your perforated worktop, but if you need an extra degree of security, all of our dogs feature an M8x1.25 threaded hole accepting TSO SpeedKnobs™ (our preferred, super quality M8 knob), FESTOOL® clamping elements knobs, or off-the-shelf knobs with M8x1.25 threads.(DoubleGroove Tall Dog shown in the picture above.)



Part of a complete range of 20mm workholding accessories from TSO Products!


Got a suggestion to make this page even better? Your feedback and suggestions are always welcome!
Other Details
TSO brand products are guaranteed for five years from date of sale against defects in materials or workmanship. Normal wear and tear and accidental damage are not covered. For any product determined to have a defect covered by this warranty, TSO Products will repair or, at its option, replace with current comparable product. Warranty requests require an RMA (return authorization number) prior to any return. Request an RMA number by contacting TSO Customer Service (
info@tsoproducts.com
).
Product Videos
Custom Field
Product Reviews
Well, I have seen TSO products in youtube videos for long time especially the rail squares. I bought these along with a stubby pair hoping the use them with the clips and cut square stock. Well i was wrong. I opened the package and placed the TSO dogs on the Festool MFT3 and they were wobbly. So i took out my iGaging 6 inch caliper and the TSO dogs varied from 19.74 to 19.85 mm. The stubby pair has a top and bottom collar and both were different diameter. I have requested a refund. Furthermore, I also bought the UJK Parf Guide Mark II and it had 2 short dogs. Those measured 19.94mm and were snug in the MFT holes.

I purchased the Stubby Dogs to allow my Makita Cordless Track Saw to clear the first dog holding the guide rail. They are the perfect height, low enough to clear the "bottom" battery on the saw. They slide in nicely with no play in my 20mm holes made by the Parf Guide system which gives amazingly accurate 96mm hole patterns in my mdf top. Very happy with my Stubby Dogs.

great for plywood - ordered the wrong version

Just the right size for relatively thin stock -- my TS-75 clears them. This version fits loosely in my Paulk "FastCap" workbench ("close fit" dogs fit). Securing them with SpeedKnobs addresses that issue. They extend below the 1/2" ply top, so I made oversized "washers" from 1/4" ply and glued them to the bottom of the workbench top in the best locations for crosscuts and ripping. Use them with SpeedKnobs and Dog Rail Clips and get excellent results.

The Stubby Bench Dogs allow me to fully use my smaller cutting tables. I typically work with sheet goods. A cutting table (Paulk Compact Bench or smaller) meant that I really had no better cutting capacity that with a sliding miter saw. With the taller dogs I had difficulty cutting material that was near the width of the cutting table. Now the limiting factor is my rail! Hans and his team continues to solve real users problems. Thanks!
©2021 TSO Products LLC. All rights reserved. GRS-16, TPG-20, TPG-30, TPG-50, DBF-45 BigFoot, TDS-10 DogStop, MTR-18, PTR-18, DoubleGroove Dogs, Power-Loc, and SpeedKnobs are trademarks of TSO Products LLC. Festool is a brand of TTS Tooltechnic Systems AG & Co.KG. Other brands are property of their respective owners.
We are continually striving to improve our products based on customer input. While we make every attempt to keep our product pages up-to-date, know that the product you receive may reflect recent improvements and therefore differ slightly from the product depicted. We reserve the right to change specification of products without notice.