Product Description
All DoubleGroove™ Dogs are sold in pairs (purchase "1" quantity and you will receive two dogs).
DoubleGroove™ Close Fit Bench Dogs
A perfectly engineered complement to the Parf Guide System
To create the most accurate 20mm worktop, you need the best fitting 20mm dog. That was our design intent when we set out to create the CF-Dogs or "Close Fitting" Dogs. Most 20mm dogs on the market feature a 19.90mm body, which fits well in the Festool MFT/3 but can result in needless play when used with the Parf Guide System or a 20mm worktop made with precision by CNC router. Instead, our CF-Dogs feature a 19.98mm body providing a near zero clearance fit when inserted into a 20mm bench dog hole.
A Smart Add-On to the Parf Guide System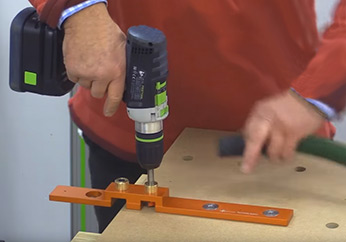 Watch Peter duplicate 20mm holes with precision using 20mm bench dogs for drill guide registration in
Part 2 of his Parf Guide System video
.
The introduction of Peter Parfitt's Parf Guide System (PGS) now provides the everyday woodworker a means to create highly accurate 20mm patterned worktops to near-CNC accuracy. This system relies on a drilling jig that is indexed to the table via two 20mm bench dogs. Because our CF-Dogs fit into this drill guide and indexing holes with near-zero clearance, you will achieve more accurate hole positions compared to using a traditional 20mm bench dog. This is why our DoubleGroove™ CF-Dogs are the perfect add-on for those using the Parf Guide System.
The usefulness of our DoubleGroove™ CF-Dogs is not limited to those using the Parf Guide System. Many woodworkers are creating custom 20mm tops with CNC routers capable of machining holes accurate down to ±0.002" (0.050mm). With this kind of accuracy, many discover that their traditional 20mm bench dogs now fit with too much play; a problem that can be solved with DoubleGroove™ CF-Dogs.
DoubleGroove™ CF-Fit Dogs are available in four sizes: Small (the product on this page, ideal for use with the PGS), Large (ideal for use with the MTR-18 triangle or in thicker worktops), Tall (for use with Dog Rail Clips), and Stubby (also for use with Dog Rail Clips but short enough to clear the TS-55 motor housing when fully plunged).
So Exactly What's Different Here?
DoubleGroove CF-Dogs are distinguished by their slightly larger body diameter, 0.003" (0.08 mm) to be exact. While this change may seem minute, it makes all the difference in eliminating any unwanted play that may be present when a standard 20mm dog is inserted into a precision cut 20mm hole. A CF-Dog can be easily identified by the addition of a single annular groove in its top surface.
Not Ideal for All 20mm Work Surfaces
For everyday use in a typical work table such as the Festool MFT/3, our CF-Dogs can be less than ideal. Manufacturing variances present in the MFT/3 can result in a frustratingly tight fit, making them challenging to remove even with their handy collar ridges. For this reason, we recommend using our general-purpose DoubleGroove™ Dogs available in sizes Small, Medium, Large, Tall, and Stubby. Every dog in our DoubleGroove™ family can be underside clamped with an M8 knob such as our SpeedKnobs™ to ensure perpendicularity and a wobble-free fit.
Don't Confuse Accuracy with Tolerance
All DoubleGroove™ Dogs are manufactured to the same extremely high 0.001" tolerances. They are all equally precisely made. The distinction is in the diameter of the body; the CF-Dog's larger diameter body results in a closer fit when inserted into a 20mm hole.
Looking to the Future
Many woodworkers are migrating to high precision tools such as CNC routing or the Parf Guide System to cut their next work top. While general purpose 20mm dogs will serve most well for some time to come, DoubleGroove™ CF-Dogs and Super Parf Dogs will increasingly become the dog of choice for precision woodworking.
Easier to Use: Twin grooves running along the collar make DoubleGroove Dogs easier to remove than other dogs on the market; no more stuck dogs!
A Special Fit: Precision machined to exacting tolerances, with a diameter of 19.98mm to fit snugly in precision-machined 20mm holes.
Ideal for High Precision Custom Worktops: If you've made your own perforated worktop based on the 20x96mm standard and aren't quite sure if your tolerances are perfect, you'll likely find our general purpose DoubleGroove Dogs to be a better choice. But if you've made your work surface using a CNC router or a high precision method such as the Parf Guide System, these CF-Dogs should provide a better fit.
Clampable: Each dog includes an M8x1.25 threaded hole, perfect for use with our SpeedKnobs to secure the dogs inside your 20mm perforated worktop. (If you already have the knobs from Festool's 488030 Clamping Elements, those will work too, but you'll find our SpeedKnobs to be much faster and easier to thread.)
Material: 6000 series aluminum alloy, T5 tempered and anodized clear
Optional Accessories
Dimensions
Got a suggestion to make this page even better? Your feedback and suggestions are always welcome!
Other Details
TSO brand products are guaranteed for five years from date of sale against defects in materials or workmanship. Normal wear and tear and accidental damage are not covered. For any product determined to have a defect covered by this warranty, TSO Products will repair or, at its option, replace with current comparable product. Warranty requests require an RMA (return authorization number) prior to any return. Request an RMA number by contacting TSO Customer Service (
info@tsoproducts.com
).
Product Videos
Custom Field
Product Reviews
These dogs were to complete those needed for my dog fence stops. Everything fit perfectly! No slop!

I you want a dog to fit snug in your top these are what you want. Using these with a parf guide built top is dead on in my experience.

I need these for my mft, and they're perfect. High quality, and fast customer service.

Well made, I use these dogs with My parf guide system mark 2 and on the diy mft top. As with all TSO products top notch!

Based on RonPaulks comments in a video.

Based on RonPaulks comments in a video.

These fit perfectly with my custom top made of 3/4" MDF using the Parf Guide Mark II. They're snug yet can be removed without requiring pliers. After realizing they were a good fit I placed another order and have 6 of them.

Excellent product, fit perfectly in my dog holes. Quality finish

I would buy again if I need more.

TSO 20mm close fit dogs - small

Excellent dogs that fit snugly in MFT 3 holes with no play that I can tell and can be removed by hand. I use these to help square my Festool MFT fence. Threads fit Festool knob threads. I plan to order taller ones for use with track when making 90 and 45 degree cuts
©2023 TSO Products LLC. All rights reserved. GRS-16, TPG-20, TPG-30, TPG-50, DBF-45 BigFoot, TDS-10 DogStop, MTR-18, PTR-18, DoubleGroove Dogs, Power-Loc, and SpeedKnobs are trademarks of TSO Products LLC. Festool is a brand of TTS Tooltechnic Systems AG & Co.KG. Other brands are property of their respective owners.
We are continually striving to improve our products based on customer input. While we make every attempt to keep our product pages up-to-date, know that the product you receive may reflect recent improvements and therefore differ slightly from the product depicted. We reserve the right to change specification of products without notice.