Product Description
Only offered to United States customers at this time. Domestic shipping.
Note that Parf Super Dogs are sold in individual units, not pairs!
UJK Technology 20mm Parf Super Dog
Secures to your table with a simple twist—no clamp required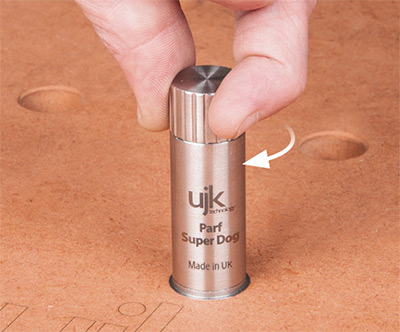 A simple twist is all it takes to lock the Parf Super Dog rigidly in place.
Tall dogs, no matter how tight the tolerances in the dog hole, will always have a little movement. Otherwise, inserting and removing the dog would be a challenge. However, without a locking device, this will inevitably result in a slight wobble and a possible loss of accuracy. The taller the dog, the more pronounced the movement. In order to overcome this, our DoubleGroove™ Dogs have the ability to clamp to your table using a threaded knob; but obviously, they require access to the underside of the table.
Enter the UJK Parf Super Dog, precisely manufactured to an exceptionally fine tolerance. A simple twist of the top of the dog changes fine tolerance into zero tolerance and locks it firmly in place. Once locked, there is no wobble or movement, the Parf Super Dog fit is rock solid. A simple twist of the top in the opposite direction releases the dog.
The Parf Super Dog is 90mm long and comes with three interchangeable collars. A 25mm diameter, 10mm tall mid-bush register exactly mimics the original Parf Dog, providing 60mm projection in total. A 20mm diameter plain collar allows a completely flush fit. When used in pairs the super precision fit of the dog is perfect for fixing other items or jigs with corresponding 20mm holes.
Finally, a stop collar fits into the chamfer around the dog hole found as standard on the UJK Technology worktop (102537). It provides a register ensuring the dog sits exactly at 90° to the work surface when locked in place, whilst still allowing for a flush fit. For non-chamfered tables, it is possible to use a router with a bevel cutter to create a slight chamfer. If the dog holes do not have a chamfer, you can use Parf Super Dog with this collar inverted.
CNC machined from 303 stainless steel
Precisely manufactured to exceptionally fine tolerance
Simple twist of the top changes fine tolerance into zero tolerance
Once locked Super Dog is rock solid guaranteeing accuracy
Fully compatible with Festool MFT/3 and tables with 20mm holes
Comes with three interchangeable collars
Insert from beneath for use as a low profile dog
Videos
Watch Peter Parfitt's videos showing how to use the Parf Super Dog:
Documentation
Got a suggestion to make this page even better? Your feedback and suggestions are always welcome!

FESTOOL is a Trademark of FESTOOL Tool Technic Tanos.
TSO Products reserves the right to change specification of products without notice. Standard equipment and specifications may differ from country to country. Some products published here may not be sold in your country. Printed materials may not be current, so always check the TSO Products website for the most up-to-date product information.
All Rights Reserved © 2018
Custom Field
Product Reviews
Works very well!

Great flexibility and accuracy

Purchased an additional set of these to go with the Mark II system. Flexibility and accuracy are awesome. Stealing a SEAL saying "With 2 you have one and with one you have none" never be caught without these.

They work well and fit very nicely into the dog holes. Glad I bought them.

rpomeroy@me.com

I cant belive how well they hold in the dog holes. An work great with my makita tracksaw