Product Description
Note this product is ONLY the long knob/shaft component. If you would like to purchase the standalone Parf Long Super Dog, click here.
UJK 20mm Parf Long Super Dog Adapter
Convert your standard Parf Super Dog into a Long Dog with this accessory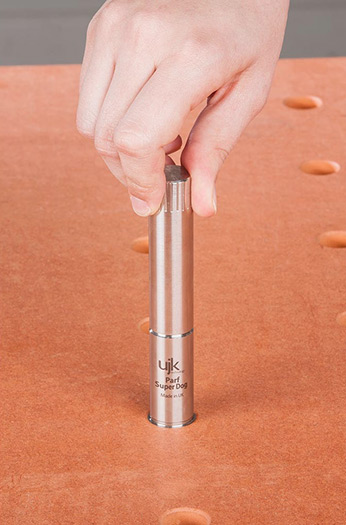 A simple twist is all it takes to lock the Parf Super Dog rigidly in place.
If you already own a Parf Super Dog, now you can "convert" it to a Parf Long Super Dog with this dog adapter! Simply replace the knob/shaft component with this longer version and you're all set. Another big reason we're fans of the Super Parf Dog: it can be disassembled and reassembled into a variety of different configurations to suit virtually any workholding task.
More Details on the Parf Long Super Dog
The majority of plunge saws can cut between 40 and 65mm deep. However, when used with a guide track and standard Parf dogs on a multifunction workbench, the setup is generally limited to cutting sheet material. The UJK Technology Parf Long Super Dog removes this limitation, opening a completely new range of joinery and carpentry possibilities.
The 120mm projection allows you to cut much thicker timber, taking full advantage of your saw's depth of cut. Using your multifunction workbench and track, the Long Super Dog offers exacting precision for cutting large timbers or trenching. Precise CNC manufacturing from 303 stainless steel to exceptionally fine tolerances ensures precision and a lifetime of accuracy.
Parf Long Super Dogs fit exactly into the 20mm holes of the UJK Technology multifunction workbench. They are compatible with the Festool MFT/3 and self-built grid tables made using Parf Guide System. Push the Long Super Dog into a hole, simply twist the top and it's rock solid.
The Parf Long Super Dog has a 120mm projection and comes with three interchangeable collars. A 10mm tall register collar with a 25mm diameter exactly mimics the original Parf Dog. The Stop collar fits into a chamfer around the dog hole (see the UJK Technology Chamfer Tool to easily add chamfers to your 20mm holes). This provides a register ensuring the dog sits flush and perpendicular to the work surface. Lastly, a 20mm diameter plain collar allows a completely flush fit in tables without chamfered holes.
We recommend using the UJK Technology Dog Rail Clips with the Long Super Dogs. The Parf Super Dog is also available in standard size.
A versatile and accurate long bench dog
120mm projection allows cutting of large timbers
Take full advantage of a plunge saw's maximum depth of cut
Guaranteed accuracy for joinery and carpentry projects
Precisely CNC machined from 303 stainless steel
Simply twist of the knurled top for rock solid fit
Videos
Watch the Axminster product overview video showing how to use the Parf Long Super Dog:
Got a suggestion to make this page even better? Your feedback and suggestions are always welcome!
Other Details
Non-TSO brand products are covered by the warranty of their respective manufacturer.
Custom Field
Product Reviews
©2023 TSO Products LLC. All rights reserved. GRS-16, TPG-20, TPG-30, TPG-50, DBF-45 BigFoot, TDS-10 DogStop, MTR-18, PTR-18, DoubleGroove Dogs, Power-Loc, and SpeedKnobs are trademarks of TSO Products LLC. Festool is a brand of TTS Tooltechnic Systems AG & Co.KG. Other brands are property of their respective owners.
We are continually striving to improve our products based on customer input. While we make every attempt to keep our product pages up-to-date, know that the product you receive may reflect recent improvements and therefore differ slightly from the product depicted. We reserve the right to change specification of products without notice.