Product Description
Worldwide shipping available to all destinations outside the United States!
GRS-16 PE: Parallel Edge Guide Rail Square
Patented precision guide rail square for FESTOOL®, MAKITA® & TRITON® track saw guide rails
Introducing the newest version of the best-selling guide rail square on the market: the GRS-16 PE. Like its sibling GRS-16, the GRS-16 PE is designed to make it much faster to achieve dead square cuts with your FESTOOL, MAKITA or TRITON track saw—but adds a second "parallel edge" to permit squaring against the front and back of your workpiece.
The Original (& Patented) Guide Rail Square
Thanks to feedback from the TSO user community, the GRS-16 PE embodies a number of requested features and refinements:
Lighter than its predecessor despite being CNC machined from 25% thicker aluminum, with a mating vertical edge that now perfectly matches the height of your guide rail extrusion for maximum support and engagement
Now fits in a Systainer—see our new Dual FoamPac Systainer Insert and limited edition TSO Blue Systainer
Latch hook now features a resilient coating to grasp and protect the edge of your guide rail
Reshaped T feature lead-in makes it even easier to install onto your guide rail
Accessory mounting holes tapped for M6 threads—enables connection to the TSO Parallel Guide System and Angle Accessory
Adjustments to key tolerances to better accommodate production variances observed in guide rail manufacturing
Fasteners used on all TSO brand tools are now metric for worldwide availability
New, fully recyclable all-corrugated white packaging
See How It Works
Simple, Automatic Accuracy
Before the GRS-16 family, accessories for squaring up your track saw guide rail relied on the loose-tolerance T-slot found on just about every guide rail. To overcome this inherent inaccuracy, you had to rely on a separate reference square, plus a combination of loose parts like T-bars, hex bolts, knobs or wingnuts. No longer! The patented GRS-16 PE is completely self-contained and self-aligning, thanks to an innovative, high strength integral draw latch mechanism. Simply slide the GRS-16 PE onto your guide rail, lock the draw latch, and you're done. Five seconds to square.
Accurate cuts with your track saw often require using a screw clamp or quick clamp. For this reason, we've designed notches in both reference edges of the GRS-16 PE to accommodate popular clamps like the Festool Screw Clamp or Quick Clamp.
Built for a Lifetime of Service (or Longer)
The GRS-16 PE is precision CNC machined from a single piece of 5/8" (15 mm) thick 6061-T6 aluminum and then anodized for a non-marring, high durability finish. The high-strength draw latch is built from stainless steel—to resist rust and pitting over time. Despite its high clamping strength, a comfort coating on the latch handle makes it easy to generate the leverage necessary to engage, release or reposition the square along your length of track. The GRS-16 is made in the United States, and comes with our five-year warranty.
So Which Tool is Right for You?
If you need the ability to reference off the front and back edge of your workpiece, select the GRS-16 PE (the product you see on this page). If you want the absolute smallest and lightest form factor and anticipate using the square for conventional cuts referencing the front edge of your workpiece, choose the GRS-16. Can't decide? Check out the Combination Set for the best of both worlds:
Allows you to square both ends of longer rails for greatest accuracy
Keep one in the truck and one in the shop
Special savings when purchased together as a Combination Set
A System Approach
The GRS-16 PE is much more than a guide rail square; in fact, it's the foundation of a broader system of TSO Products designed for interoperability. Case in point: the TSO Parallel Guide System utilizes the M6 accessory mounting holes on the GRS-16 PE for attachment. Once connected, you can repeatedly square and rip multiple workpieces in a single operation.
MFT/3 Compatibility
We have added the ability to connect the GRS-16 PE to the MFT/3 guide rail hinge bracket! The time-consuming re-squaring process of the MFT guide rail is now a thing of the past with the newest GRS-16 PE. Rail squareness is now assured, unaffected by varying material thickness and rail height adjustment. The inspiration for this improvement came from customer Simon H., a Festool MFT/3 user in the UK. We listened and acted on it. Thank you, Simon!
We engineered this feature to keep the kerf line in exactly the same location as your standard MFT/3. You can quickly change back to the original MFT/3 arrangement any time.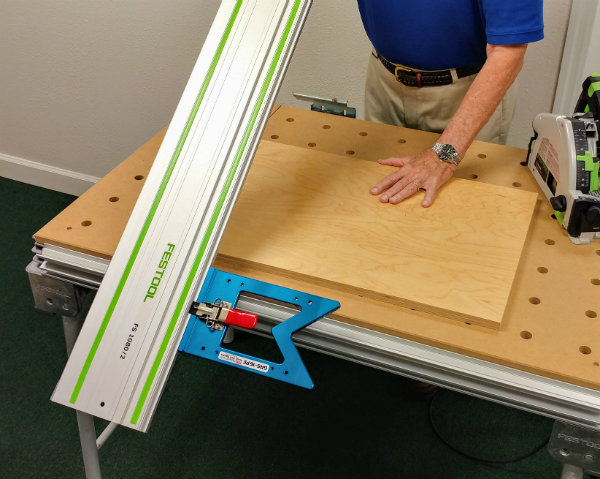 GRS-16 PE connects perfect square to MFT/3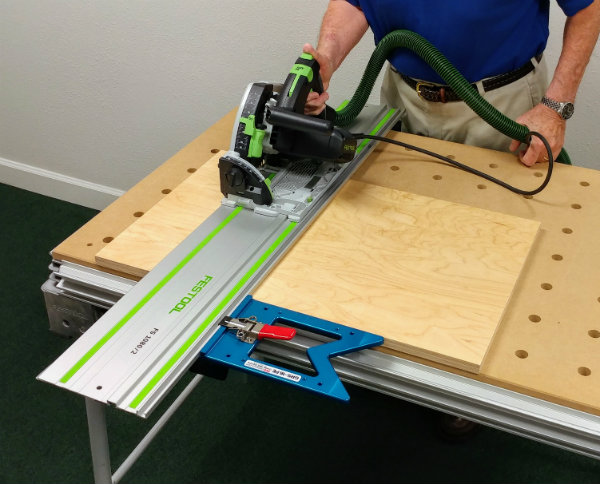 It does not get any more accurate than this...

Already own a GRS-16 PE? We've got more good news!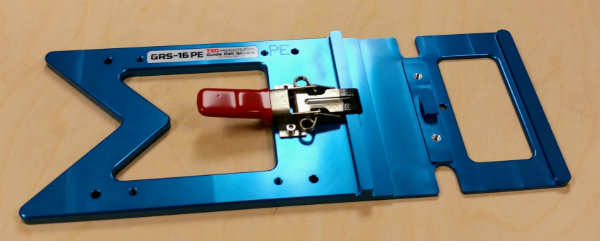 Notice the M6 tapped holes in the right side – they line up and match the MFT/3 hinge bracket mounting holes. Connection and removal is a snap. In keeping with our policy of making new features backward compatible whenever practical, you can add this feature to your existing GRS-16 PE tool using instructions and a pattern available for free download from our "Plans" section right now. This feature is not technically possible for use on the GRS-16.
What About the GRS-16?
If you want the absolute smallest and lightest form factor and anticipate using the square for conventional cuts referencing the front edge of your workpiece, choose the GRS-16. Can't decide? Check out the Combination Set for the best of both worlds:

Allows you to square both ends of longer rails for greatest accuracy

Keep one in the truck and one in the shop

Special savings when purchased together as a Combination Set
Technical Details
Dimensions: 15.2 x 6.0 x 1.4 inches (386 x 152 x 36 mm) - click here for dimension drawing
Weight: 1.9 lbs (862 g)
Material: 6061-T6 aluminum, anodized, 5/8 in (15 mm) thick
Compatible Guide Rails (Both): FESTOOL, MAKITA and TRITON (not compatible with FESTOOL HK 55 Carpentry Saws including the FSK 250, FSK 420 and FSK 670; not compatible with BOSCH or DEWALT tracks)
Clamping Mechanism: Over center draw latch (304 stainless steel) with compensating spring; secured with M4x0.7-10 stainless steel socket head screws
Accessory Mounting Holes: Tapped for M6 threads for compatibility with TSO Parallel Guide System and Angle Accessory
Videos

Quick video walkthrough of the original GRS-16 PE.


Special thanks to Eric at The Poplar Shop for his unexpected video review of the original GRS-16!
Guide Rail Square Comparison Table
Got a suggestion to make this page even better? Your feedback and suggestions are always welcome!
The TSO Products GRS-16 is protected by US Patents 10,363,681 and 10,434,678, and Canadian Patent 2,994,319.

Other Details
TSO brand products are guaranteed for five years from date of sale against defects in materials or workmanship. Normal wear and tear and accidental damage are not covered. For any product determined to have a defect covered by this warranty, TSO Products will repair or, at its option, replace with current comparable product. Warranty requests require an RMA (return authorization number) prior to any return. Request an RMA number by contacting TSO Customer Service (
info@tsoproducts.com
).
Custom Field
Product Reviews
Grs-16 PE parallel edge guide rail square

Lite weight slips on easy and stays square

Love this square for track saw project. Accuracy was exactly what I needed!

Recently had a conversation with TSO Products about an issue I was having with my GRS-16pe's...I purchased 2 of them, and they contacted me to sort out the issue. TSO Products customer service is excellent, they took care of my issue...Highly recommend, if you have an issue with their products, they will do whatever is needed to correct the issue!

I bought two of the grs-16pe a few months back and finally got to try them out the other day...both of them are slightly out of square, I have a nice precision square and when I put these on the festool track, and place the square in the corner of them there is a small amount of movement, when cutting a 18" board it was off square by a little less than 16th of an inch...but I didn't buy these to be close to square....I bought them because I saw reviews saying they were precision made and perfectly square...not neither of mine are sadly

GRS-16 Paralle Edge Guide

Have not used yet. Seems to be of a very high quality.

I frequently use my track saw, mostly to break down 4'x8' sheets. To square the cuts I typically use a large precision machine square. However, on site I use often a tape measure. Anyway, I purchased that GRS-16 PE and I'm fully satisfied with it, resulting in square cuts. High quality, well made product that I believe is long lasting. Even fits 100% my lower cost Powertec rails, which are apparently fully compatible to Festool and Makita rails. I'm glad I bought the PE version since can be used on either side. Notch for Festool quick clamps works perfect as well.

I love the grs16pe. I bought because I rely heavily on my track saw for large, accurate cuts. Measuring, marking and lining up my track was getting tedious and didn't always get me the precision I needed. I bought and it has cut my time down by at least 50% and increased my precision tenfold. It's extremely nice, has great weight and is machined perfectly. Expensive? Yes! But you get what you pay for.

Grs-16pe parallel edge guide rail

Works fantastic. Cuts plywood perfectly square

Old type systainers are 1/8" smaller than the current systainers.

The guide rail square is very well made and handles really nice. It's very accurate and works as described. The only thing I found a little disappointing is that the overall length was designed for the current systainer model with the single locking knob. The previous model had a little thicker wall and so, i had to make a (slightly painful) choice: either a new modern systainer for my TS-55 or file an 1/8" from the square. You might have guessed it.. ouch. It won't hurt the performance, it's just a suuupertight design and this is just unfortunate. Other than that I'm really happy I got the set. It will save me a ton of time down the road. TSO rocks!