Product Description
PTR-18 PLUS expanded capability
NEW Accessory Mounting Pattern
(13) CNC machined M6 threaded attach points

( 2) Edge Locating Pins, Stainless Steel

( 2) Guide Rail Squaring Pins, S.S. 25mm Tall for squaring even raised MFT/3 Guide Rails now taking advantage of available accessories:

Clamping angles for casework squaring

Dog Rail Clips locking to FESTOOL Guide Rails

TSO Stubby Dogs
All features of the Original PTR-18 are continued
This 18" (457mm) Precision Triangle is Designed To Take Advantage Of Your 20mm Perforated Worktop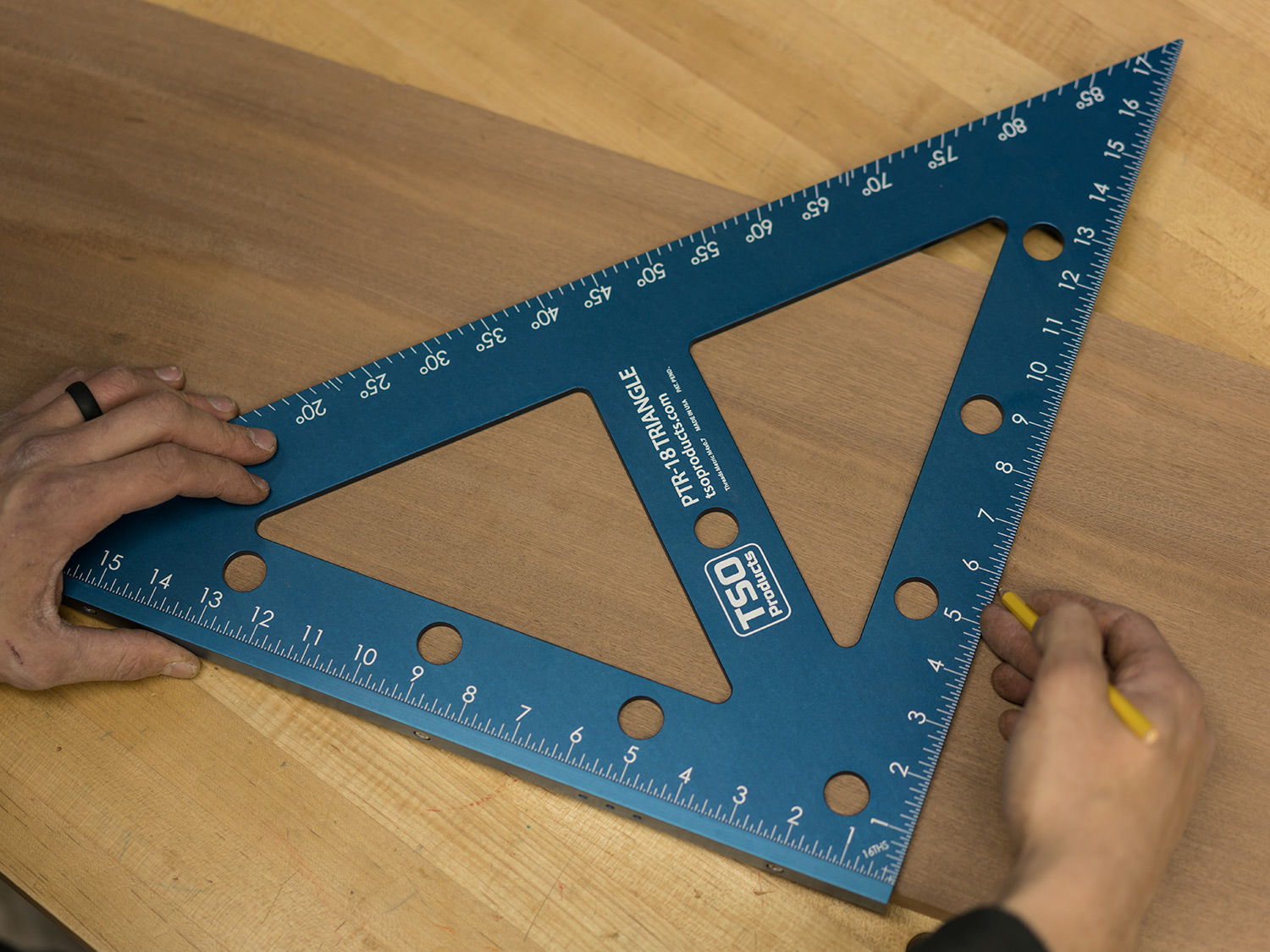 Expanding your woodworking capabilities with the TSO Products PTR-18, part of the first precision triangle family designed to take full advantage of worktops featuring the 20mm hole pattern popularized by the FestoolⓇ MFT/3 MultiFunction Table.
Out of the box, the PTR-18 will be the most accurate triangle in your arsenal—but it's no simple triangle. Careful engineering and smart design features set the PRT-18 apart, making it a great solution for squaring your workpiece on a Festool MFT/3, verifying the accuracy of a custom-made perforated worktop, or traditional triangle duties such as angle setting on your miter saw, marking angles, or ensuring dead-square cuts on sheetgoods. With its removable foot, this triangle literally stands on its own—to verify squareness of a cabinet interior—or to register a quick 45 degree angle against a reference edge. The PTR-18 is made in the USA from cast aluminum tooling plate on high-precision CNC machining centers and anodized for maximum durability.
Guaranteed Accurate: Machined on high-precision CNC machining centers and made from thick precision aluminum tooling plate guaranteed square

to within .001" over its 18" length as verified using an automated CMM (Coordinate Measuring Machine).

Removable Foot: Enables freestanding use or quick angle measurement off the edge of your table or workpiece. Includes Allen wrench and stainless steel socket screws which can be conveniently stowed in tapped holes along the foot when not in use.

Accepts 20mm Bench Dogs: Eight 20mm holes are perfectly positioned on 96mm centers to align with the hole pattern on your Festool MFT/3 table or similar perforated worktop, and accept our DoubleGroove™ Medium Dogs—providing an accurate, repeatable, and adjustable means of rapidly aligning workpieces or ensuring the squareness of your Festool fence and guide rail. (Note that you can also use widely available alternative bench dog brands, but those alternatives may not provide enough depth to accommodate clamping knobs—like our well-regarded M8 SpeedKnobs™—once inserted through the triangle and table.)

Dual Dimensioned: Both Imperial or Metric measurement included (one on each side).

Easy to Read: Extremely legible, large, laser-engraved marking.
Expandable with Accessories:
DoubleGroove™ Dogs and SpeedKnobs™.to index the PTR-18 to your Festool MFT/3 table

Clamping angles for casework squaring

Dog Rail Clips locking to FESTOOL Guide Rails

Warranty: Backed by our lifetime guarantee.
What's Included In The Box
PTR-18 PLUS Precision Triangle Body

PTR-18 Removable Foot

M4 Socket Head Cap Screws (6)

M3 Allen Wrench

Edge Locating Pins (2)

Guide Rail Squaring 25mm Tall Pins (2)
Optional Accessories
TSO DoubleGroove™ Dogs

TSO SpeedKnobs™

TSO 6-inch Clamping Angle set

UJK Dog Rail Clips, pair

TSO Stubby Dog, pair
Additional Photos & Applications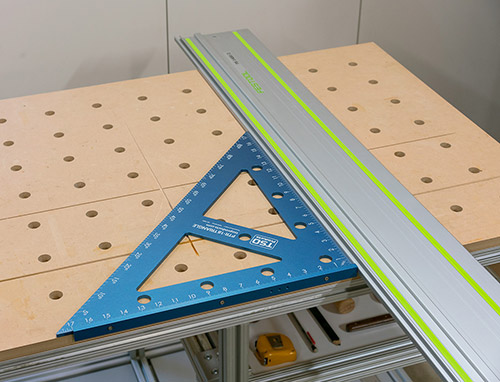 Quickly square your guide rail to the MFT/3 worktop or fence.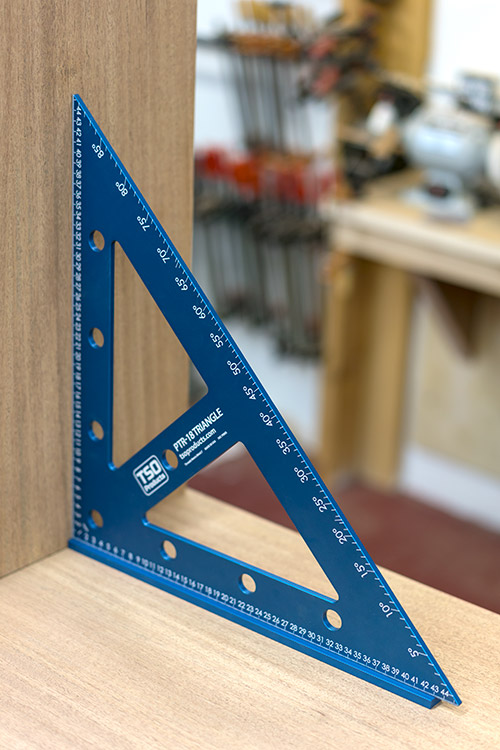 Confirm interior squareness of even large cabinet builds.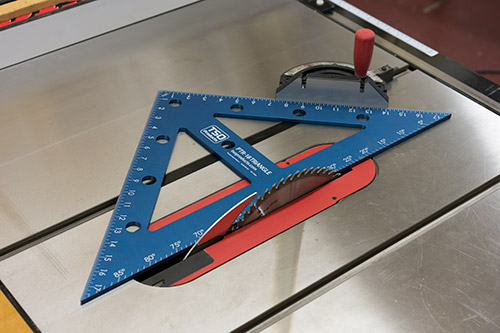 Remove the foot to calibrate your miter gauge to the table saw blade, or ensure a perfect 45 or 90 degree cut on the miter saw.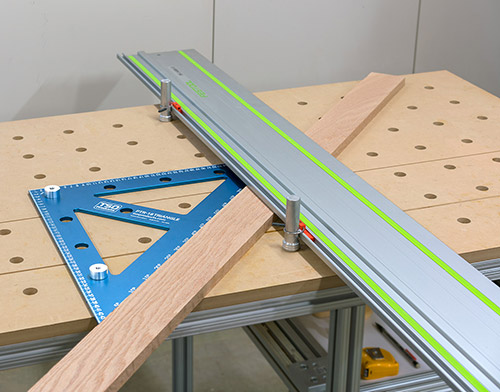 Use the PTR-18 as a fence for your perforated worktop and make accurate angular cuts with the addition of TSO Products DoubleGroove™ Dogs.
Triangle Comparison Table
| | | | | |
| --- | --- | --- | --- | --- |
| | PTR-18 Precision Basic Triangle | MTR-18 Precision System Triangle | MTR-18 Precision System Triangle Set | MTR-18 Master Accessory Kit |
| | | | | |
| Includes… | Triangle, removable foot, mounting screws, hex allen wrench | Triangle, removable foot, mounting screws, hex allen wrench, edge locator pins, squaring/connecting pins | Triangle, removable foot, mounting screws, hex allen wrench, edge locator pins, squaring/connecting pins, pointer, locking pin, ergo knob, t-bolt, four DoubleGroove Dogs, two clamping angles, two allen drivers, stowage tin | Pointer, locking pin, ergo knob, t-bolt, four DoubleGroove Dogs, two SpeedKnobs, two clamping angles, two allen drivers, extra mounting hardware |
| Best for… | 90 and 45 degree set-ups | 90 and 45 degree set-ups, plus ability to add accessories in the future | Applications requiring fine, infinite angle adjustment and repeatability | Adding infinite angle adjustment to MTR-18, additional clamping options |
| Optional Accessories | DoubleGroove™ Dogs, SpeedKnobs™ | MTR-18 Master Accessory Kit, DoubleGroove™ Dogs, SpeedKnobs™ | N/A (it's all included) | N/A (it's all included) |
Got a suggestion to make this page even better? Your feedback and suggestions are always welcome!
TSO Products reserves the right to change specification of products without notice. Standard equipment and specifications may differ from country to country. Some products published here may not be sold in your country. Printed materials may not be current, so always check the TSO Products website for the most up-to-date product information.
FESTOOL is a Trademark of FESTOOL Tool Technic Tanos.
PTR-18™ TSO Products, LLC.
All Rights Reserved © 2018
Other Details
Lifetime Warranty from TSO Products!
Product Videos
Custom Field
Product Reviews
Extremely useful and accurate for squaring up large items. Imperial and Metric on same triangle is a great feature. My only reservation is the marking method does not appear to be laser etched, so I will reserve judgement on durability of the markings.


Comment from TSO: The markings on the Triangle are indeed laser engraved for a lifetime (or more) of use. :)

PTR-18 PRECISION BASIC TRIANGLE

This triangle a mft table a 20mm dog and clamp you can cut any angle you want perfectly every time. It's a great addition to my MFT table and shop


cullbuster@hotmail.com

excellent tool for squaring up my MFT3 table. great for squaring up cabinet boxes.

great tool for using on Festool Mft 3

The quality of workmanship is outstanding works great setting
G
fence on Mft3 table.Very easy to read build robust to last forever.Even has imperial or metric scales.I installed the bar to raise it so I could
set my fence parallel.Very satisfied.

This precision tool is perfect for a variety of things. Obviously squaring boxes, but also squaring my MFT guide, squaring my mitre saw, using the long side for a straight edge when coupling track saw guide rails. I also really like the dual scales as I am trying to convert to doing all work with the metric system (easy to use but hard for me to visualize lengths so far). The removable edge is another plus that adds to its versatility. And this tool is solid, probably weighs 4 lbs. Bottom line, it is an expensive PRECISION tool that will last you a lifetime. It's worth the one time wallet pain.

Precise tool in combination with my MFT3

The trangle is manfactured very precise and offers rhe ability to be positioned by 20mm parf dogs to my MFT3 desk. I am now practising for some days only but I like it very much.

There is one major draw back: no distributer in Europe and you have to be aware that import tax has to be paid on top. I hope TSOproducts will come up with some more tools for the engaded woodworker.