Product Description
Introducing the Newest GRS-16 & GRS-16 PE Combo Set that includes our own custom branded TSO Products Systainer.
Precision guide rail square for FESTOOL®, MAKITA® & TRITON® track saw guide rails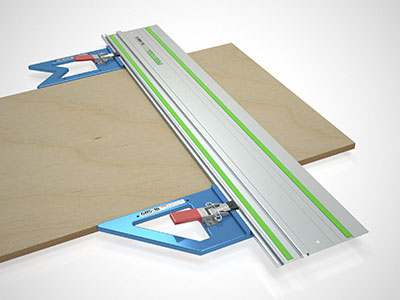 Enjoy special savings when you purchase both the GRS-16 and GRS-16 PE as a combination set, now available with our custom branded Systainer and Foam Pac Inserts to make it easier than ever to store and transport your Guide Rail Squares.
The GRS-16 and GRS-16 PE are designed to make it much faster to achieve dead square cuts with your FESTOOL, MAKITA or TRITON track saw. Keep one in the truck and one in the shop, or use both guide rails at the same time to square either ends of longer guide rails.
The Original Guide Rail Squares, Refined
Thanks to feedback from the TSO user community, these latest squares embody a number of requested features and refinements:
Lighter than its predecessor despite being CNC machined from 25% thicker aluminum, with a mating vertical edge that now perfectly matches the height of your guide rail extrusion for maximum support and engagement
Both squares now fit in a single Systainer—see our new Dual FoamPac Systainer Insert
Latch hook now features a resilient coating to grasp and protect the edge of your guide rail
Reshaped T feature lead-in makes it even easier to install onto your guide rail
Additional accessory mounting provisions included—see our new Angle Accessory and stay tuned for some exciting new products building off the GRS-16 platform
Adjustments to key tolerances to better accommodate production variances observed in guide rail manufacturing
Fasteners used on all TSO brand tools are now metric for worldwide availability
New, fully recyclable all-corrugated white packaging
Simple, Automatic Accuracy
Before the GRS-16 family, accessories for squaring up your track saw guide rail relied on the loose-tolerance T-slot found on just about every guide rail. To overcome this inherent inaccuracy, you had to rely on a separate reference square, plus a combination of loose parts like T-bars, hex bolts, knobs or wingnuts. No longer! The patent-pending GRS-16 and GRS-16 PE are completely self-contained and self-aligning, thanks to an innovative, high strength integral draw latch mechanism. Simply slide the square onto your guide rail, lock the draw latch, and you're done. Five seconds to square.
Accurate cuts with your track saw often require using a screw or quick clamp. For this reason, we've designed notches in both reference edges of the GRS-16 PE to accommodate popular clamps like the Festool Screw Clamp or Quick Clamp.
Built for a Lifetime of Service (or Longer)
The GRS-16 and GRS-16 PE are precision CNC machined from a single piece of 6061-T6 aluminum and then anodized for a non-marring, high durability finish. The high-strength draw latch is built from stainless steel—to resist rust and pitting over time—and features a resilient, grippy, non-marring coating on the latch hook. Despite its high clamping strength, a comfort coating on the latch handle makes it easy to generate the leverage necessary to engage, release or reposition the square along your length of track. Both the GRS-16 and GRS-16 PE are made in the United States, and come with our lifetime warranty.
The Best of Both Worlds
When you need the absolute smallest and lightest form factor and anticipate using the square for conventional cuts referencing the front edge of your workpiece, choose the GRS-16. When you need the ability to reference off the front and back edge of your workpiece, select the GRS-16 PE. Or, choose the Combination Set for the best of both worlds:
Allows you to square both ends of longer rails for greatest accuracy
Keep one in the truck and one in the shop
Special savings when purchased together as a Combination Set
Technical Details
Dimensions (Both): 15.2 x 6.0 x 1.4 inches (385 x 152 x 36 mm)
Weight (GRS-16): 1.7 lbs (772 g)
Weight (GRS-16 PE): 1.9 lbs (862 g)
Material (Both): 6061-T6 aluminum, anodized, 5/8 in (15 mm) thick
Compatible Guide Rails (Both): FESTOOL, MAKITA and TRITON (not compatible with FESTOOL HK 55 Carpentry Saws including the FSK 250, FSK 420 and FSK 670; not compatible with BOSCH or DEWALT tracks)
Clamping Mechanism (Both): Over center draw latch (304 stainless steel) with compensating spring; secured with M4x0.7-10 stainless steel socket head screws
Videos

Introductory video of the GRS-16.


Introductory video of the GRS-16 PE.


Quick video walkthrough of the original GRS-16 PE.


Special thanks to Eric at The Poplar Shop for his unexpected video review of the original GRS-16!
Guide Rail Square Comparison Table
Got a suggestion to make this page even better? Your feedback and suggestions are always welcome!
The TSO Products GRS-16 is Patent Pending.
TSO Products reserves the right to change specification of products without notice. Standard equipment and specifications may differ from country to country. Some products published here may not be sold in your country. Printed materials may not be current, so always check the TSO Products website for the most up-to-date product information.
FESTOOL and Systainer are a Trademark of FESTOOL Tool Technic Tanos.
GRS-16™ TSO Products, LLC.
All Rights Reserved © 2018
Other Details
We stand by the GRS-16 with a lifetime warranty!
Custom Field
Product Reviews
It just works. I got it a week or so ago and I've been using it daily since. It has opened up a whole new world of functionality for my tracksaw.