Product Description
We're no longer offering this bundle as a single SKU, but now you can save $10 when you purchase both the MTR-18 and Master Accessory Kit at the same time. This is an automatic discount at checkout and requires no coupon code.
Introducing the

Expanded

MTR-18 Set
An 18" (457mm) precision system triangle unmatched in its accuracy and versatility
Watch this video to see how the MTR-18 can be used to replace three specialized tools for layout, measurement and cutting work.
Just a few of the possibilities when you combine the MTR-18 with a modern 20mm worktop.
Much more than a triangle, the MTR-18 Set is a first-of-its-kind tool combining the accuracy of a CNC machined precision triangle with included accessories to enable countless clamping, angle measurement and jig scenarios. Designed to take advantage of today's modern 20mm hole patterned worktops, the MTR-18 Set has all of the features and capability found in its cousin—the PTR-18—but adds the ability to be set to any angle with the included indexing pointer and brass locking pin. Once registered to a 20mm patterned worktop such as the Festool® MFT/3, the MTR-18 Set acts as a fast and extremely accurate angle register. Dial in a precise angle with its large protractor scale and included pointer with parallax-free viewport—and then lock it in place with included DoubleGroove™ Large Dogs and M8 SpeedKnobs™. With a long edge of more than 635mm (25"), the MTR-18 can even act as a permanent fence for the Festool MFT/3 or any 20mm patterned work surface that conforms to this popular standard.
Guaranteed Accurate: Machined on high-precision CNC machining centers and made from thick precision aluminum tooling plate guaranteed square to within .001" over its 18" length as verified using an automated CMM (Coordinate Measuring Machine).
Removable Foot: Enables freestanding use or quick angle measurement off the edge of your table or workpiece. Includes ball-tip Allen wrench and stainless steel socket screws which can be conveniently stowed in tapped holes along the foot when not in use.
Festool Compatible: Arched 20mm slot is perfectly positioned to align with the holes on your Festool MFT/3 table and accept included DoubleGroove™ Large Dogs—providing an accurate, repeatable, and adjustable means of rapidly aligning workpieces or ensuring the squareness of your Festool fence, guide rail and grid pattern.
Repeatable Accuracy: Cardinal angles of 0, 15, 22.5, 30, and 45 degrees can be quickly set with included indexing pointer and M8 indexing pin.
Flexible Foot Options: Included M6 index pins can be attached to one side of the triangle's face, forming a foot on just one side of the triangle. (See animation below.)
Dual Dimensioned: Both Imperial or Metric measurement included (one on each side).
Easy to Read: Extremely legible, large, laser-engraved marking.
Includes

Expanded

Accessories in Handy Stowage Tin: Packed with a range of accessories for affixing, squaring and angle-finding—including two sets of DoubleGroove™ Dogs (standard fit and close fit varieties) for the perfect fit in any 20mm worktop.
Accessory Mounting Holes: Tapped for M6 threads for connecting included Angle Accessory
Made in the USA: Carefully manufactured in low volume and stocked in Minnesota.
Warranty: Backed by our lifetime guarantee.
What's Included in the Box
MTR-18 Precision Triangle Body
MTR-18 Removable Foot
Edge Locator Pins (2)
Squaring/Connecting Pins (2)
Socket Head Cap Screw, M4x0.7 (6)
Socket Head Cap Screw, M6x10 (6)
Brass Locking Pin
Ergo Knob (Red Dot)
T-Bolt
Indexing Pointer
DoubleGroove™ Large Dogs - Standard Fit (2)
DoubleGroove™ Large Dogs - Close Fit (2)
M8 SpeedKnobs™ (2)
Clamping Angle (2)
Allen Drivers (2)
Stowage Tin
For accompanying visuals of these parts, be sure to view the User Guide below
Documentation
User Guide for MTR-18 Set - Includes how to assemble your MTR-18 Set, a list of all items included with pictures, and common applications.
Additional Media & Applications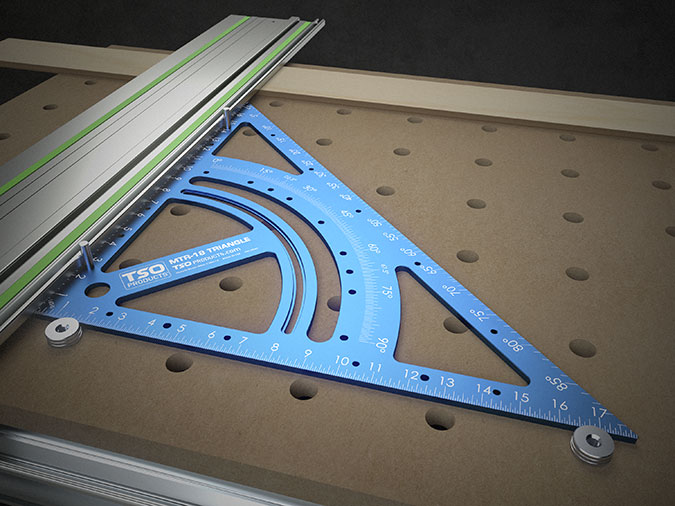 Quickly and accurately square your Festool MFT/3 guide rail to the holes in the 20mm worktop, using the MTR-18 and included DoubleGroove™ Dogs and Squaring/Connecting Pins.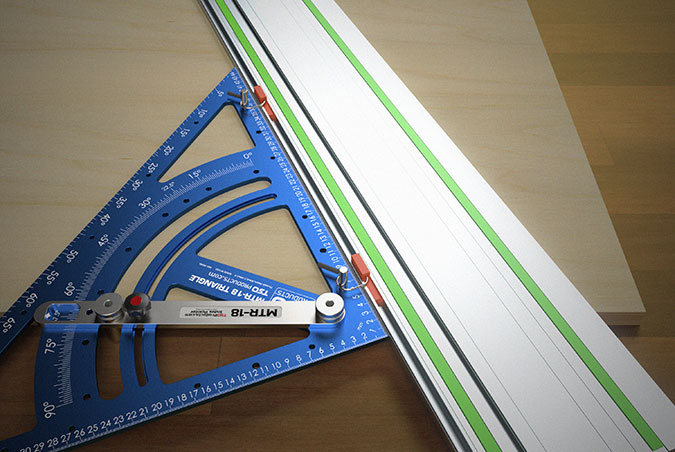 You don't need a worktop with 20mm holes to get the most out of the MTR-18. With Dog Rail Clips (not included with the kit), the MTR-18 can be secured to your guide rail. Set an angle with the included indexing pointer. Then slide the MTR-18 triangle until the two DoubleGroove™ Dogs touch the front edge of your workpiece. Fast and accurate cuts at any angle. Just one example of the many creative ways to use this versatile piece of kit!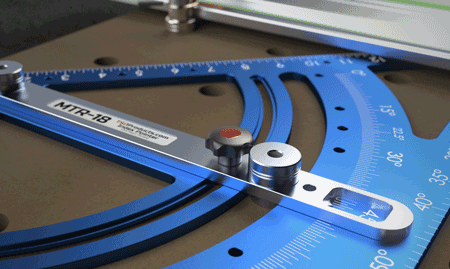 Once you've dialed in the perfect angle with the included indexing pointer, you can lock it down with the knurled brass pin or ergo knob.
Triangle Comparison Table
| | | | | |
| --- | --- | --- | --- | --- |
| | PTR-18 Precision Basic Triangle | MTR-18 Precision System Triangle | MTR-18 Precision System Triangle Set | MTR-18 Master Accessory Kit |
| | | | | |
| Includes… | Triangle, removable foot, mounting screws, hex allen wrench | Triangle, removable foot, mounting screws, hex allen wrench, edge locator pins, squaring/connecting pins | Triangle, removable foot, mounting screws, hex allen wrench, edge locator pins, squaring/connecting pins, pointer, locking pin, ergo knob, t-bolt, four DoubleGroove Dogs, two clamping angles, two allen drivers, stowage tin | Pointer, locking pin, ergo knob, t-bolt, four DoubleGroove Dogs, two SpeedKnobs, two clamping angles, two allen drivers, extra mounting hardware |
| Best for… | 90 and 45 degree set-ups | 90 and 45 degree set-ups, plus ability to add accessories in the future | Applications requiring fine, infinite angle adjustment and repeatability | Adding infinite angle adjustment to MTR-18, additional clamping options |
| Optional Accessories | DoubleGroove™ Dogs, SpeedKnobs™ | MTR-18 Master Accessory Kit, DoubleGroove™ Dogs, SpeedKnobs™ | N/A (it's all included) | N/A (it's all included) |
Got a suggestion to make this page even better? Your feedback and suggestions are always welcome!
Other Details
TSO brand products are guaranteed for five years from date of sale against defects in materials or workmanship. Normal wear and tear and accidental damage are not covered. For any product determined to have a defect covered by this warranty, TSO Products will repair or, at its option, replace with current comparable product. Warranty requests require an RMA (return authorization number) prior to any return. Request an RMA number by contacting TSO Customer Service (
info@tsoproducts.com
).
Custom Field
Product Reviews
MTR-18 PRECISION SYSTEM TRIANGLE SET

Very accurate. Worth every penny.

I was apprehensive about this purchase due to the price, but decided to give it a chance. If you own a Festool Mft or a sawstop saw with their cross cut table/ slider this tool is a absolute must have. The miter gauge and fence for the sawstop crosscut table are constantly on and off the saw and it was a pain to reset to square. I can now do it in under a couple of minutes with a set of feeler gauges and this square. I also have discovered that some of my very expensive red squares from another company are not square, I trust the TSO square more than any square I own. If you can get past the price you will not be disappointed with this product, it has changed life in my shop.

MTR-18 PRECISION SYSTEM TRIANGLE SET

Just awesome. I use always. This is my favorite tool.

MTR-18 precision triangle set

Like all TSO Products, excellent workmanship, & well thought out. Used it to check my MFT for square, & to square up my Kreg bench top hold down tracks to 90 degrees. Dave Stanton on YouTube does a great presentation on how to get the full potential from the MTR-18 set. Would recommend to others, although the price might be a deal breaker. You only go around once, so buy the best! It pays off in the long run. Thanks TSO!

I love this product. Have been waiting for it to be in stock for some time. The few angle cuts I've made so far were great. Eric was very helpful and wonderful to deal with on my purchase. Thanks.
©2021 TSO Products LLC. All rights reserved. GRS-16, TPG-20, TPG-30, TPG-50, DBF-45 BigFoot, TDS-10 DogStop, MTR-18, PTR-18, DoubleGroove Dogs, Power-Loc, and SpeedKnobs are trademarks of TSO Products LLC. Festool is a brand of TTS Tooltechnic Systems AG & Co.KG. Other brands are property of their respective owners.
We are continually striving to improve our products based on customer input. While we make every attempt to keep our product pages up-to-date, know that the product you receive may reflect recent improvements and therefore differ slightly from the product depicted. We reserve the right to change specification of products without notice.