Description
The Most Capable Woodworking Triangle Sized for a Systainer®
Watch this video for a hands-on introduction of the MTR-X by Jason Bent of Bent's Woodworking.
Attached to your worktop, connected to your guide rail, around the shop, or on the jobsite—the MTR-X is the ultimate compact woodworking triangle. Embodying all of the features of our popular MTR-18 but in a more compact form factor, the MTR-X includes a full array of problem-solving accessories housed in a protective CNC-cut Kaizen foam Systainer insert.
Measuring 9.70" (246mm) along the square edges and 13.64" (346mm) on the long edge, the MTR-X is ideal for a wide range of typical triangle duties: marking or scribing a perfect 45° or 90° reference, squaring the inside of casework and drawers, and calibrating equipment such as miter gauges, jointer fences, MFT/3 hinged guide rails, and sliding compound miter saws.
MTR-X: Attached to 20mm Worktop
With a unique design featuring five 20mm bored holes and a 20mm swept arc, the MTR-X can be directly attached to any 20x96mm worktop by way of two included TSO Triangle Dogs. Place the Triangle Dogs in your worktop and place the triangle over the dogs to establish a quick 45° or 90° reference edge.
Need to dial in a custom angle? That's where the protractor assembly comes in handy. When assembled as shown in the animation to the right, the MTR-X is transformed into a protractor for fine angle setting or—when inserted back into a 20mm worktop—a variable angle fence for cutting workpieces with a track saw.
MTR-X: Attached to Guide Rail
The included connector makes it easy to connect the MTR-X directly to your guide rail, allowing you to precisely cut any angle between 0° and 90°. This specially designed connector's low profile means it won't interfere with your track saw during deep plunge cuts, yet it provides rock-solid, rigid attachment to your guide rail. Compatible with Festool, Makita, Milwaukee, Kreg ACS and POWERTEC guide rails.
USA Made, CNC Machined Precision
All TSO precision triangles are precision CNC machined from cast aluminum tooling plate for maximum dimensional stability and verified square with automated CMM to .001" along their full length. Each triangle is then anodized for a more durable and non-marring finish. Finally, angle graduations are laser engraved on both sides, making the scale easy to read even in less-than-ideal lighting conditions.
Maximum Capability: Attach it directly to your worktop for use as a protractor or variable angle fence, attach it directly to your guide rail for angled cuts, attach it directly to your casework as a clamping angle, or use it like you would any compact precision triangle around the shop or on the jobsite.
Supremely Accurate: Machined on high-precision CNC machining centers and made from dimensionally stable precision aluminum tooling plate guaranteed square to within .001" over its entire length.
Festool Compatible: Triangle features five 20mm bored holes and a 20mm swept arc for attaching to the Festool MFT/3 or any other 20x96mm worktop.
Edge Index Pins: Included M6 index pins attach to the face of the triangle to establish a reference shoulder. The two longer pins are perfect for squaring elevated, hinged guide rails like those on the Festool MFT/3.
Clamping Square: Transform the MTR-X into a large clamping square with included aluminum angles. Secure with clamps (not included) to square cabinet casework during assembly or glue-up.
Made in the USA: The MTR-X is manufactured in low volume and stocked in Minnesota.
Protective Foam Systainer Insert: Keep all of your MTR-X accessories in one place with the included custom Kaizen foam insert, fitting T-LOC and Systainer3 enclosures. Add our very own Systainer3 M 112 enclosure for the perfect fit.
Six Ways to Use the MTR-X
Variable Angle Fence for Track Saw Cutting
Here, the MTR-X is setting the angle and acting as the fence for a workpiece before cutting with a track saw.
Variable Angle Guide Rail Square
Directly attach the MTR-X to your guide rail with the included connector for use as a portable angle cutting rig.
Mark Perfect 45° or 90° with Edge Index Pins
Hand screw the Edge Index Pins into the face of the MTR-X to form a shoulder.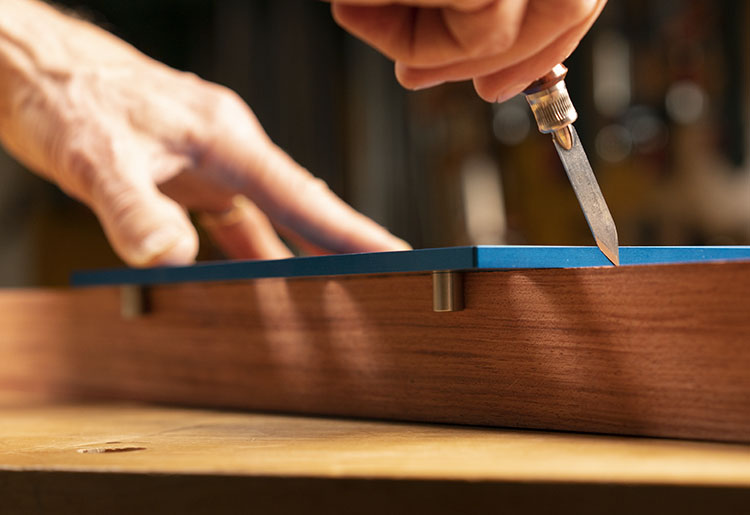 Squaring Cabinet Casing for Assembly or Glue-Up
Install the included clamping angles on the MTR-X and use two clamps (not included) to square cabinet casings for dry fit or glue-up.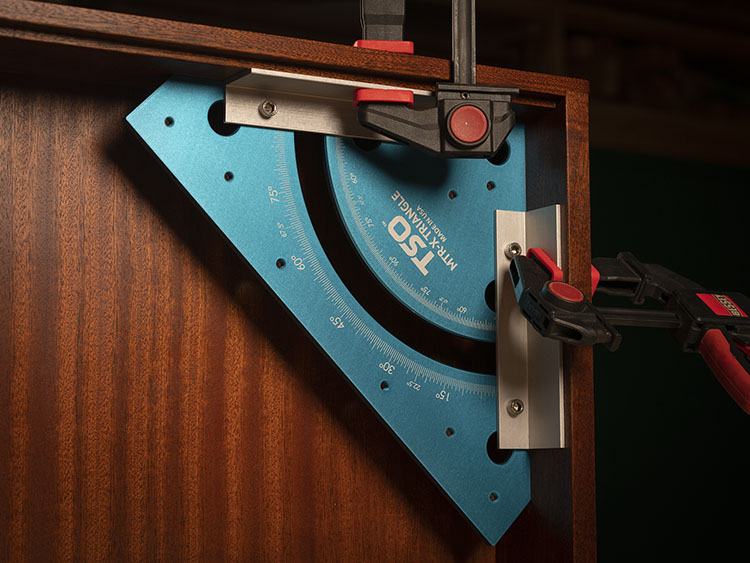 Square MFT/3 Guide Rail to Fence
Ensuring the guide rail sits at a perfect 90 degrees to the MFT/3's back fence. With the included long pins, you can even check for squareness while the guide rail is in its elevated position.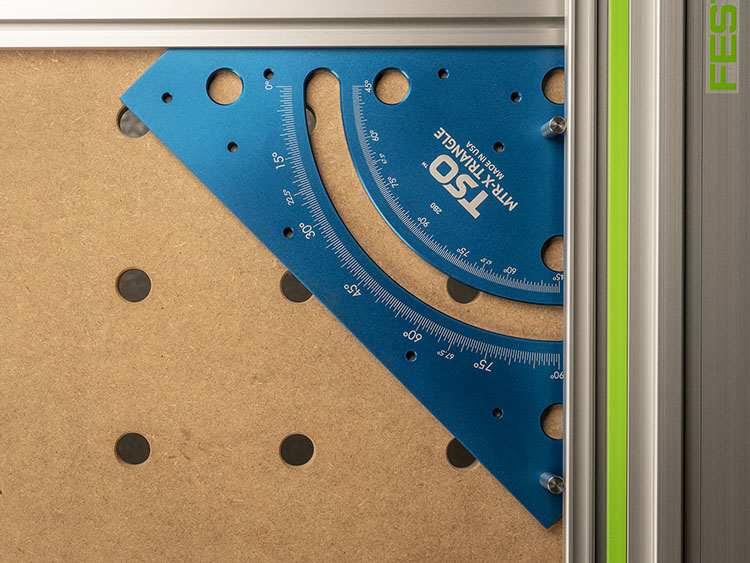 Calibrating Your Tools
The compact size of the MTR-X makes it ideal for many calibration tasks in the shop, such as calibrating the 90° angle on a compound miter saw, squaring a jointer fence, or setting a miter gauge.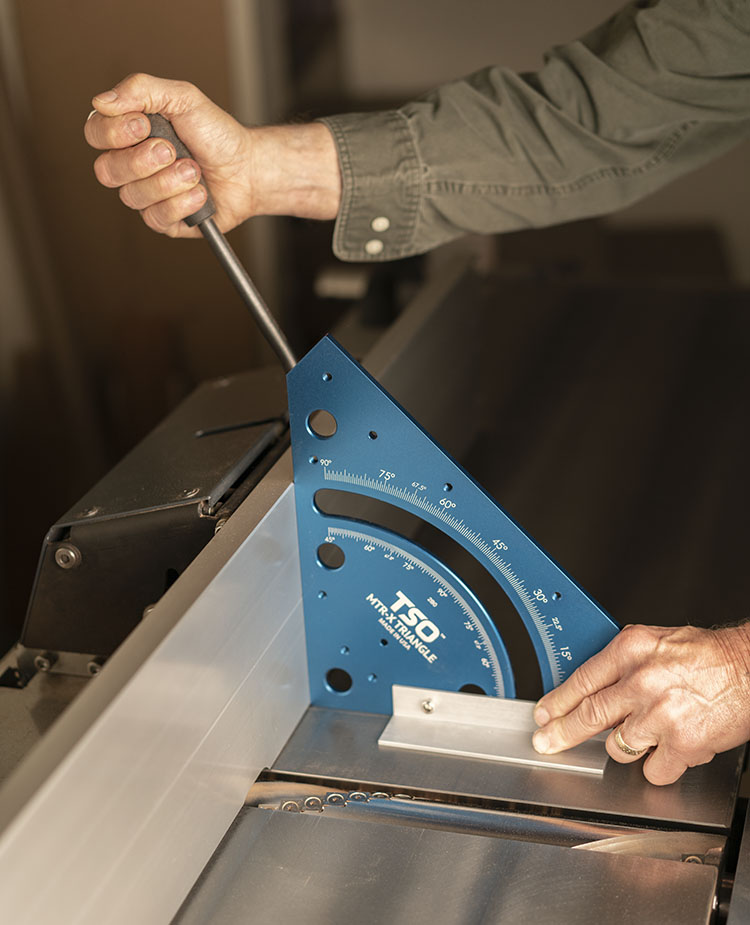 What's Included in the Box
Triangle
Pointer with Parallax-Free Viewport
TSO Chamfer Dog, Close Fit (2)
Guide Rail Connector
M8 Knob Assemblies (2)
M6 Custom Screws (2)
M6 Short Index Pins (2)
M6 Long Index Pins (2)
6" (152mm) Clamping Angles (2)
Foam Systainer Insert
Systainer Card
3mm Hex Driver
Small Parts Tin
Dimension Drawing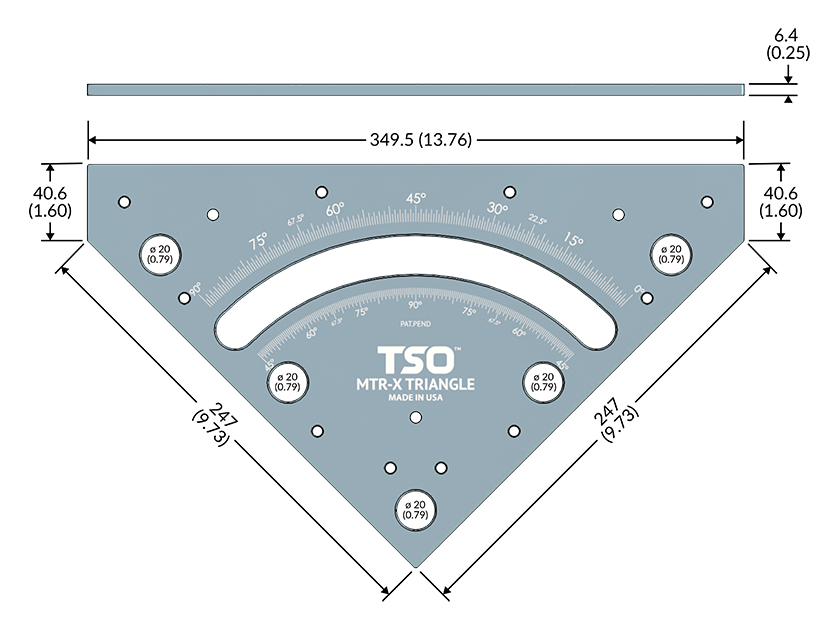 Got a suggestion to make this page even better? Your feedback and suggestions are always welcome!
View All
Close
Warranty & Returns
TSO brand products are guaranteed for five years from date of sale against defects in materials or workmanship. Normal wear and tear and accidental damage are not covered. For any product determined to have a defect covered by this warranty, TSO Products will repair or, at its option, replace with current comparable product. Warranty requests require an RMA (return authorization number) prior to any return. Request an RMA number by contacting TSO Customer Service (
info@tsoproducts.com
).
View All
Close
4 Reviews
Triangle Set - excellent product

Well thought out and packed in a systainer. Easy to store and transport. Matches all my other Festool systainers. Highly recommended.

Great triangle very accurate. I wish it came with an instruction sheet. Setting it up as an angle guide for using it with a guide rail is not necessarily intuitive

Made it very easy to align my MFT table and make sure jointer fence was square. Easy to attach to Festool guide rail.

This is the miter gauge we all need for our Track saws

I have been using my Makita tracks aw for cross cuts on plywood, with less than stellar results especially when trying to do 45 deg cuts and other angles. I had looked at other angle sets, and decided that I would take a chance on this device, being a simple design that I had thought someone should build. This MTR-X Precision Triangle is AWESOME. I can not say enough about how excited I am to have used it today time. I build furniture in my garage shop. This MTR-X Triangle is a game changer. No more trying to make sure everything is designed on either a 90 or 45 degree cut. I now have the ability to make miter cuts that will compete directly against those of a precision miter gauge on a table saw.
View All
Close