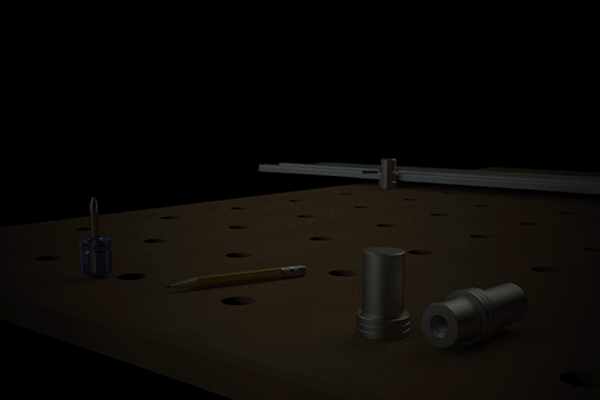 Introducing "Stubby" 20mm Bench Dogs
Announcing yet another addition to the DoubleGroove™ family of 20mm bench dogs: "Stubby" Dogs. Our DoubleGroove™ Tall Dogs, Dog Rail Clips and SpeedKnobs have become a popular means of positioning and securing your guide rail to a 20mm worktop, but there's one trade off: the Tall Dogs can interfere with the motor housing on the Festool® TS55 and TS75 as they are moved along the guide rail, fully plunged. If you have a large enough 20mm table and don't tend to utilize the full length of your table when making cuts, you may never encounter this limitation. But for those using a standard Festool MFT/3 or smaller 20mm work surface, the low profile of Stubby Dogs means you can now cut along the full length of your guide rail.
The "Stubby" Difference
Featuring a 40mm shorter body length, the Stubby Dog fits underneath the motor housing of the Festool TS55 and TS75 track saws when fully plunged into the cut. We recommend Stubby Dogs when cutting material up to 25mm (1") in thickness.
DoubleGroove™ Features
Like all products in the DoubleGroove™ family, the Stubby Dogs are sold in pairs and feature comfort grooves to make insertion and removal easier, along with an M8x1.25 threaded hole accepting your favorite clamping knobs. And they're made the same, discriminating TSO-level attention to detail.