Product Description
All DoubleGroove™ Dogs are sold in pairs (purchase "1" quantity and you will receive two dogs).
To secure your DoubleGroove™ Dogs, consider adding our SpeedKnobs™ (sold separately). We think you'll find these knobs to be far and away the fastest and easiest-to-thread option; they're the best we've ever tested.
DoubleGroove™ Medium Dogs
Innovative 20mm bench dogs ideal for use with our PTR-18 or thicker worktops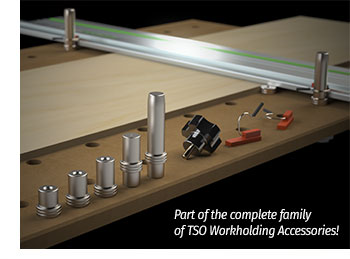 We've reinvented the modern 20mm bench dog and, in the process, addressed some common frustrations. Having dealt with our fair share of ill-fitting or "stuck" dogs, we've designed our dogs with twin grooves that run along the collar. While it may not seem like much, these double grooves make it much easier to remove the dog once it has been installed. Sharing the same careful attention to detail that has set our precision tools apart, small but important design elements—like the tiny undercut beneath the collar that guarantees a perfect 90 degree transition, even if the holes in your work surface aren't perfectly devoid of tearout, or slight chamfers along the touchable surfaces—result in a tool that's comfortable, accurate and a pleasure to use.
DoubleGroove™ Medium Dogs measure 24mm from collar to bottom, making them the perfect size for use with our PTR-18 Precision Triangle or thicker perforated worktops. To accommodate clamping, an included M8x1.25 threaded hole at the bottom of each dog accepts our M8 SpeedKnobs™, FESTOOL® M8 knobs from the clamping elements kit, or any other similar off-the-shelf M8x1.25 threaded knob. All DoubleGroove Dogs are made in the USA from 6061-T6 aluminum on high-precision CNC machining centers and clear anodized for maximum durability. Sold in pairs.
The DoubleGroove™ Dog family includes a variety of sizes: Small (ideal for most general use applications), Medium (for use with our PTR-18 Precision Triangle or thicker work surfaces), Large (for use with our MTR-18 Precision System Triangle), Tall (for using in conjunction with Dog Rail Clips to secure your guide rail to your worktop), and Stubby (also designed for use with Dog Rail Clips, but with a shorter height to clear your track saw motor housing when plunge cutting). Additionally, specialized "Close Fit" versions of our Small, Large, Tall, and Stubby Dogs are available for those who want a tighter fit in 20mm worktops made with precision tools (e.g. CNC router or the Parf Guide System).
Easier to Use: Twin grooves running along the collar make DoubleGroove Dogs easier to remove than other dogs on the market; no more stuck dogs!
A Perfect Fit: Precision machined to exacting tolerances, with a diameter of 19.9mm to strike the perfect balance between solid, secure mounting and ease of insertion/removal.
Ideal for Custom Worktops: If you've made your own perforated worktop based on the 20x96mm standard and aren't quite sure if your tolerances are perfect, you'll likely find DoubleGroove Dogs to be a better choice. Their twin collar grooves will make it easier to remove dogs that might become "too snug," and a swept undercut along the collar means DoubleGroove Dogs will mount flush even if your holes have tearout.
A Great Companion: DoubleGroove Medium Dogs are the perfect companion to our PTR-18 Precision Triangles.
Clampable: Each dog includes an M8x1.25 threaded hole, perfect for use with our SpeedKnobs to secure the dogs inside your 20mm perforated worktop. (If you already have the knobs from Festool's 488030 Clamping Elements, those will work too, but you'll find our SpeedKnobs to be much faster and easier to thread.)
Material: 6000 series aluminum alloy, T5 tempered and anodized clear
Optional Accessories
See DoubleGroove™ Dogs In Action!
Dimensions
Additional Photos & Applications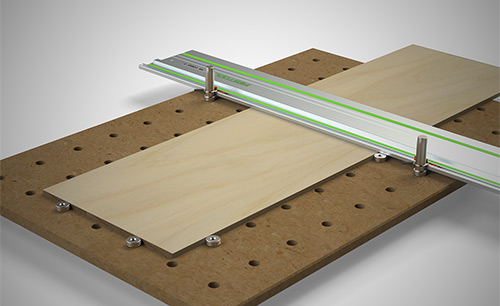 DoubleGroove Dogs™ can be used to secure your workpiece to your perforated worktop at perfect 90 or 45 degree angles. When used in conjunction with Dog Rail Clips, our dogs can also be used to secure your guide rail to your worktop.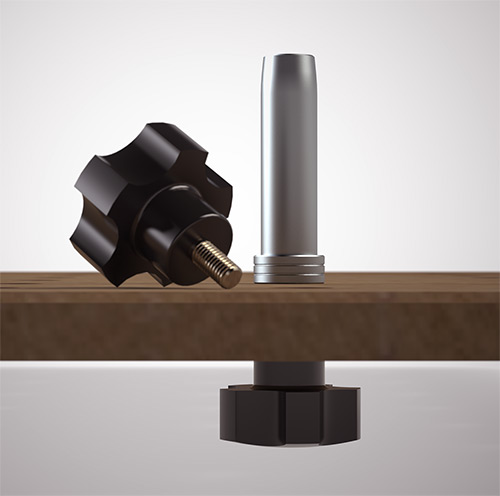 DoubleGroove™ Dogs will be a snug fit in your perforated worktop, but if you need an extra degree of security, all of our dogs feature an M8x1.25 threaded hole accepting TSO SpeedKnobs™ (our preferred, super quality M8 knob), FESTOOL® clamping elements knobs, or off-the-shelf knobs with M8x1.25 threads.(DoubleGroove Tall Dog shown in the picture above.)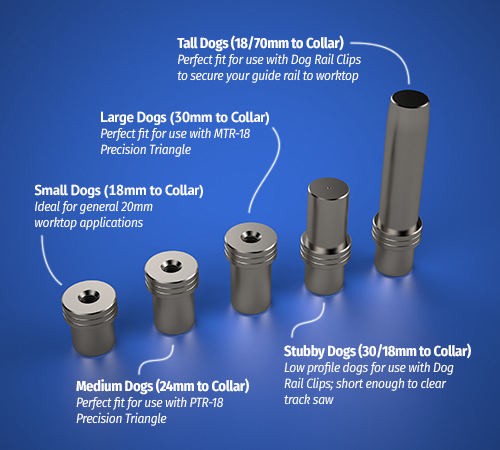 Part of a complete range of 20mm workholding accessories from TSO Products!


Got a suggestion to make this page even better? Your feedback and suggestions are always welcome!
Other Details
TSO brand products are guaranteed for five years from date of sale against defects in materials or workmanship. Normal wear and tear and accidental damage are not covered. For any product determined to have a defect covered by this warranty, TSO Products will repair or, at its option, replace with current comparable product. Warranty requests require an RMA (return authorization number) prior to any return. Request an RMA number by contacting TSO Customer Service (
info@tsoproducts.com
).
Product Videos
Custom Field
Product Reviews
excellent finish and fit. Use as every day pins.

Works great

excellent fit and finish, groves make removal easier.

I made an MFT style bench, but the top is thicker than 3/4". Regular knobs didn't work with knobs - the knob bolts would not reach the bottom of the dogs. I got the large dogs with the triangle kit, but they were slightly to big to use with the knobs. The medium knobs were just right :).