Product Description
Only offered to United States customers at this time. Flat rate $9.95 domestic shipping.
UJK Drill Guide
Finally - an accurate, super-versatile drill guide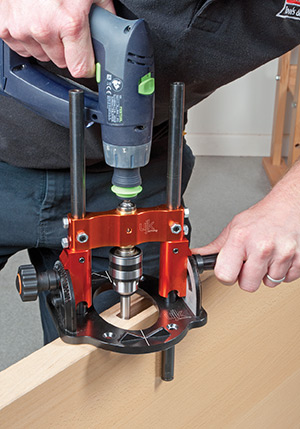 Drill highly accurate, perfectly perpendicular holes like this lock mortice!
It's never easy, trying to drill freehand at a specific angle. This highly accurate engineered drill guide guarantees precise results. The UJK Technology Drill Guide is in effect a hugely versatile, portable drill press. It's an ideal accessory for your power drill. The portability of the drill guide ensures that you can drill virtually anywhere, even in the middle of a large sheet. In staircase construction, the guide is indispensable when drilling the holes for the balusters in the handrail or an outer stringer. Set it at 90° and it produces perfectly perpendicular holes.
How It Works
The slide assembly runs between twin steel guide-bars. Nylon grub screws allow minor adjustments, to take out any slight play between the assembly and guide-bars. There is enough space between the bars to accommodate most drills. A precision-machined main shaft runs inside brass bush for accuracy. The drive shaft is a 1/4" hex, allowing you to use either corded or cordless drills. The drill shaft ends in a 3-jaw, 1.5 to 10mm geared chuck. There is a depth stop for accurate boring and countersinking. If required, the bars can be set to protrude through the base. When drilling a lock mortice, engaging the protruding bars on either side of the door automatically self-centres the guide. Quadrants on both sides of the base allow angle setting at plus or minus 60°.
A threaded knob on one side and the auxiliary handle on the other ensure any chosen angle setting is secure. The underside of the base has a rubberised high friction pad to help steady the guide. The large aperture in the base gives a clear view of drilling mark and allows the use of bits up to 60mm diameter. Integral "V" guides mean you can drill round stock or pipes. The base has four countersunk holes, for fixing the guide in place, or fitting a side fence for repeat drilling from an edge such as chain drilling a mortice. The UJK Technology Drill guide is solid, very accurate and offers a great deal of flexibility.
Hugely versatile, portable drill guide
Accurate engineering guarantees accurate results
Capable of drilling any angle between ±60°
Set at 90° for perfectly perpendicular holes
Accepts bits or holesaws up to 60mm diameter
Suitable for most corded or cordless drills
Centrotec-compatible 1/4" hex drive shaft, with 3-jaw, 10mm geared chuck
Cast aluminium base, machined slide assembly with steel guide-rods
Rubberised, high-friction, non-slip base pad and auxiliary handle
Documentation
Got a suggestion to make this page even better? Your feedback and suggestions are always welcome!
Product Videos
Custom Field
Product Reviews